▶ Counter Electrode
The counter electrode is also called the relative electrode.
The main role is to send or receive current so that it reacts on the surface of the work electrode. The flow of current is mainly switched between Counter Electrode and Working Electrode. In the meantime, oxidation and reduction reactions occur and Reference Electrode measures and monitors the Potential of Counter Electrode against Working Electrode. It operates as a Feedback sensor to maintain a constant voltage, constant current. In some cases, Luggin Capilary is used to reduce voltage error between the counter electrode and the reference electrode.
In other words, current flows through the working and relative electrodes, providing adequate voltage to the reference electrode.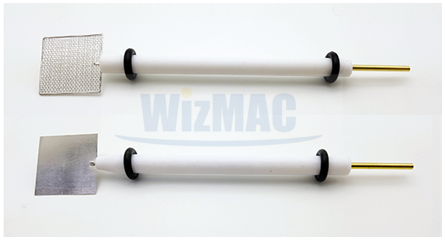 Platinum line is used as the most commonly material, and platinum counter electrodes are in the form of wire, net, plate, and pilament etc. Used appropriately depending on experimental purpose and environment. As the amount of current depends on the area of electrode interface, a wire is used if the amount of current is small, a plate is high current, and a net or pilament type is used if the high current and needed to be stirred.
Graphene is currently being studied as a substitute for platinum due to its high price.
Unlike the reference electrode, there is no need for special control such as polishing.
It is desirable that the surface area of the relative electrode is equal to or greater than the surface area of the reference electrode.
When external voltage is applied to a two cell consisting of a working electrode & reference electrode, if the potential of a working current is E,
Therefore, the working electrode's potential is as error as the applied potential and IRsol'n.